How to help All Year long 🛟 
We think every month should be Aphasia Awareness Month 🗣️ 🎉 . Don't wait for next June!
 Want to be part of the solution? Inform people who don't understand yet what Aphasia is, or how simple it can be to connect with someone with Aphasia.  Help people know what Aphasia can look like and what they can do.  We are on a mission to remove isolation and help people with Aphasia participate more fully in their communities. Click below to print the page 👇 🖨️ – cut apart and pin to a bulletin board or leave on a counter or table of a place you visit. YOU CAN HELP improve communication out there! Thank You! 
✏️ Write us and let us know where you put this short message. We will send you a little something! 
APHASIA + HOW TO HELP in 5 Sentences 🗣️🛟🙏:
🗣️Aphasia is a communication disorder often caused by stroke, brain injury or neurological disease. 
🗣️People with Aphasia may have a big language challenge, but their intellect is not affected. 
😨 It is scary to communicate with Aphasia due to all of the challenges. 
🤞 👍 People with aphasia often WANT TO COMMUNICATE. 
🙏Please try, be friendly, be patient, talk in short sentences and accept our thanks for being willing to help!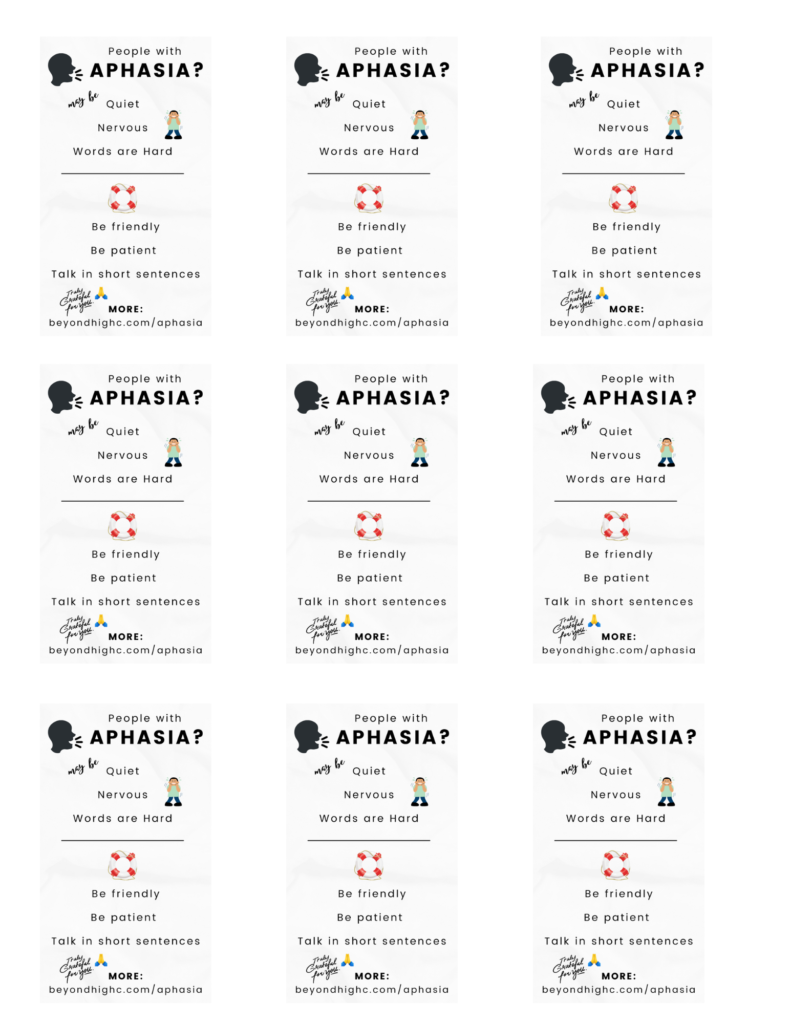 Thank you for visiting Beyond High C! Have a look around...
We have a fun, fresh, low cost program of live online
sessions to improve communication + cognition
for people with Aphasia, Parkinson's, Stroke + Brain Injury
We'd Love for You to Be Our Guest!